LCS: delivering true diversification
October 2019
LCS: the importance of being different
When you have sufficient scale, and a willingness to look outside the box, you can access amazing opportunities. Our LCS strategy has access to a wide universe of alternative strategies to help investors tap into attractive risk-adjusted returns that are generally uncorrelated to the wider market.

What is a low-correlation strategy?
Our Low-Correlation Strategy (LCS) is designed to increase diversification in our MLC Horizon and Inflation Plus portfolios1 by accessing investments which have little or no correlation to traditional share and bond returns.
This helps to increase the portfolios' resilience against shocks, so they can perform better in a broader range of market environments. The strategy can help smooth short-term volatility, but it can also help protect a portfolio through extended periods of stagnation. We're looking for sources of return that will deliver when shares and bonds are weak. As this chart shows, there have been extended periods of time when global share markets have not delivered a positive, after-inflation return2.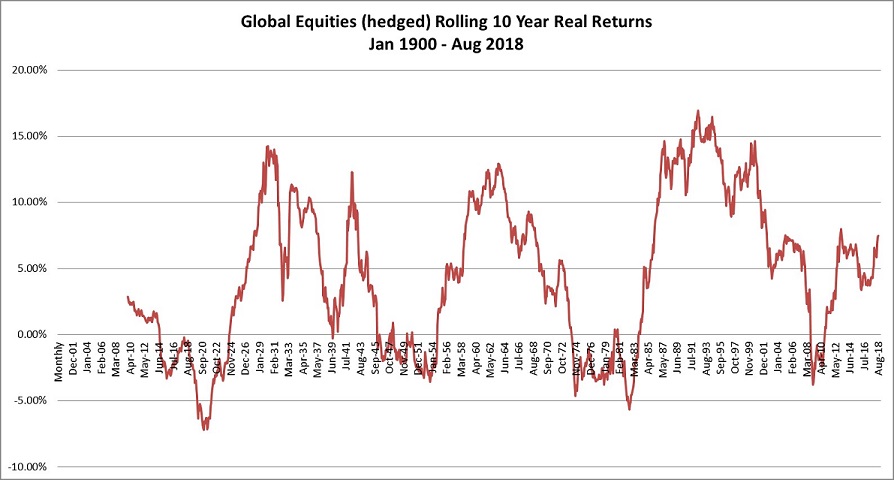 Source: Factset/MSCI and Global Financial data

LCS is built on a foundation of 12 very distinct managers. Each one of them utilises an esoteric approach to investing. While being uncorrelated to shares and bonds, the managers are also uncorrelated to each other. It's true diversification. In December 2018 when markets were down 10 per cent, LCS was up 2 per cent3.

How do you select managers?
Alternative strategies can be quite exotic, and there's a huge range of managers around the world hungry to work with us. Fortunately we have sufficient scale to be picky about who we work with, and we employ a thorough process of analysis and due diligence to uncover the very best managers. The result is a stable of managers that offer a strong record of risk-adjusted returns, that deliver broad diversification.
The following are just a couple of examples.

Combining the smartest minds with artificial intelligence
Two-Sigma is a manager that aims to beat the market by harnessing big data. Their investment approach is based on the belief that technology should be able to make better decisions than humans who lack the technology advantage. They have a team in excess of 1,500 that work to scour global financial data for available information. They use technology to process this mass of data and make investment decisions in a more disciplined, efficient way than humans can. The result is a systematic, market-neutral equity portfolio. They trade long and short, and in aggregate they're roughly neutral to share markets, so they can make money in a range of environments, generating positive alpha.
This approach has been successful in making money regardless of market returns, outperforming the market in each year it's been included in LCS. For example, in calendar year 2018, Two-Sigma made double-digit returns while most listed assets delivered negative or low single digit returns.

Innovative cash-flow financing
Another interesting manager we work with is focused on providing financing solutions. One component of their strategy is financing small businesses that are eligible for government grants. The challenge for these businesses is that while the payment from the government is almost certain – there can be a lag between approval and when the funds arrive, which could cause cash flow difficulties for the business. Our manager essentially provides bridging finance at attractive rates – providing a solution for the business, while getting paid more than an investor in government bonds for taking on the timing and complexity risk.

Have these niche strategies paid off?
LCS has performed well, it's returned 6.1% pa since inception in 20084. But just as importantly, it's shown its ability to perform in both rising and falling markets. Its performance has been largely independent of share market moves to increase the diversification of our portfolios and boost their resilience.

1 MLC Horizon and MLC Inflation Plus are available on MLC MasterKey Investment Service Fundamentals; MLC MasterKey Super and Pension Fundamentals, MLC MasterKey Business Super and MLC MasterKey Personal Super. MLC Wholesale Inflation Plus is available on Wrap Investments Series 2 and MLC Navigator Investment Plan Series 2 as well as other external platforms.
2 NB. Past performance is not a reliable indicator of future performance.
3 Past performance is not a reliable indicator of future performance. LCS returns are net of investment fees and indirect costs. MLC Horizon 4 through MLC Masterkey Super Fundamentals has an allocation of 3.3% to LCS, as at 30 June 2019.
4 Returns are from August 2008 to 31 December 2018 and are net of investment fees and indirect costs. MLC Horizon 4 through MLC Masterkey Super Fundamentals has an allocation of 3.3% to LCS, as at 30 June 2019. Past performance is not a reliable indicator of future performance.

Important information
This communication is provided by MLC Investments Limited (ABN 30 002 641 661, AFSL 230705) ("MLCI"), trustee for the Low Correlation Strategy Trust and responsible entity for the MLC Wholesale Horizon 2 Income Portfolio, MLC Wholesale Horizon 3 Conservative Growth Portfolio, MLC Wholesale Horizon 4 Balanced Portfolio, MLC Wholesale Horizon 5 Growth Portfolio, MLC Wholesale Horizon 6 Share Portfolio, MLC Wholesale Horizon 7 Accelerated Growth Portfolio, MLC Wholesale Inflation Plus – Conservative Portfolio, MLC Wholesale Inflation Plus – Moderate Portfolio and MLC Wholesale Inflation Plus – Assertive Portfolio; and NULIS Nominees (Australia) Limited (ABN 80 008 515 633, AFSL 236465) ("NULIS"), trustee for the MLC MasterKey Super & Pension Fundamentals and MLC MasterKey Business Super that are part of the MLC Super Fund (ABN 70 732 426 024) (together "MLC" or "we"). We are members of the group of companies comprised National Australia Bank Limited (ABN 12 004 044 937, AFSL 230686) (NAB), its related companies, associated entities and any officers, employee, agent, adviser or contractor (NAB Group). NAB does not guarantee or otherwise accept any liability in respect of any financial product referred to in this communication.
The information in this communication may constitute general advice. It has been prepared without taking account of individual objectives, financial situation or needs and because of that you should, before acting on the advice, consider the appropriateness of the advice having regard to your personal objectives, financial situation and needs.
You should obtain a Product Disclosure Statement (PDS) relating to the financial products mentioned in this communication issued by MLC, and consider it before making any decision about whether to acquire or continue to hold these products. A copy of the PDS is available upon request by phoning the MLC call centre on 132 652 or on our website at mlc.com.au or mlcinvestmenttrust.com.au MLC believes that the information contained in this communication is correct and that any estimates, opinions, conclusions or recommendations are reasonably held or made as at the time of compilation. However, no warranty is made as to the accuracy or reliability of this information (which may change without notice). MLC relies on third parties to provide certain information and is not responsible for its accuracy, nor is MLC liable for any loss arising from a person relying on information provided by third parties.
Past performance is not a reliable indicator of future performance. The value of an investment may rise or fall with the changes in the market. The performance returns in this communication are reported before deducting management fees and taxes unless specified.
This information is directed to and prepared for Australian residents only.