Everyone from social commentators to theologians and political leaders worry about peoples' diminishing attention spans and hunger for novelty — the endless looking for the next new thing — in the Twitter and 24/7 news cycle era.
Few parts of society, including the investment industry, are free from these pressures and expectations. However, the new and novel are not always superior to the tried and tested.
Diversification and being fee-smart are timeless investment principles. They're not magic bullets, but have served generations of investors.
The future is always uncertain.
Consequently, trying to capture upside potential from multiple markets by diversifying across asset classes, as well as some measure of downside protection, should any single market or even combination of markets weaken, remains an enduring investment idea.
Fit-for-purpose fees

Similar sense applies to fees. Returns after fees and expenses are what investors receive, and so, smart fee management sits high in the investment management hierarchy along with diversification.
To be clear, being fee-smart is not the same as dogmatically looking for the lowest fees imaginable. That would be like saying that the best car is the cheapest car, irrespective of safety or reliability.
Brakes that work, engines that function and safety systems offering protection in case of accidents are what most people would expect of cars. The same applies to investing.
There can be justification for active fees, or higher fees, in those parts of portfolios where there are reasonable prospects for better-than-benchmark returns, or where risk-management is especially important.
In other words, fit-for-purpose fees.
Active and passive together

There's often a portrayal of passive and active investing as being in conflict. That kind of zero-sum thinking doesn't serve investors well.
The past four decades has been a good period for fixed income investing as yields have fallen (Chart 1) on the back of central banks bringing inflation, which was a problem in the 1970s, under control.
Chart 1: Government bond yields across key developed countries have fallen over recent decades
Core developed market 10-year government bond yields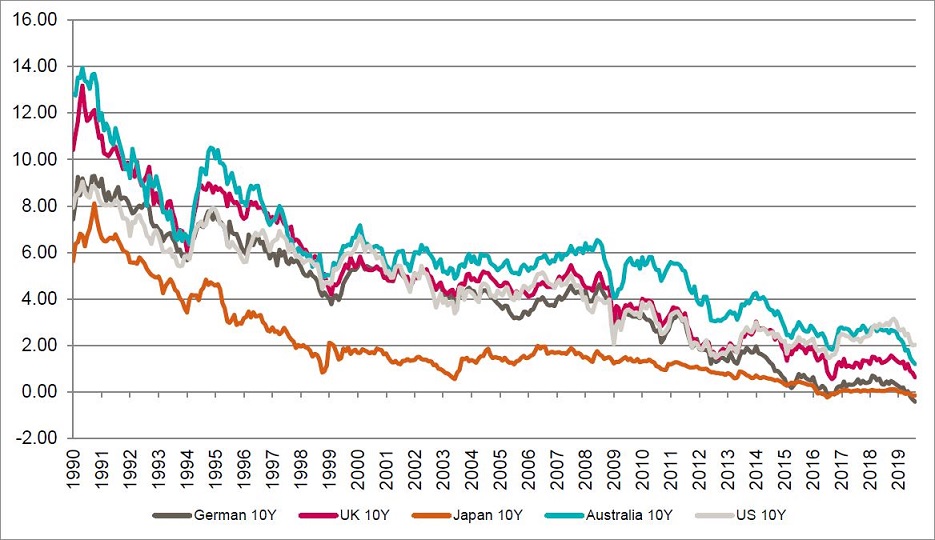 As of 31 August, 2019
Source: Bloomberg
However, with around 29 percent of global government and corporate bonds currently trading with negative yields1, and official interest rates across developed countries hovering not far off zero, risks in fixed income markets are high.
It's possible that fixed income yields and interest rates could go down further, and that would be positive for bond prices.
Still, with fixed income yields and interest rates already so low, there must be some doubt over their likelihood of going much lower.
This makes fixed income investing relatively risky, now.

Risk-management through active fixed income

A way of gauging fixed income risks is through their "duration" — a measure of a fixed income asset's price sensitivity to market interest rate movements.
We estimate that just a 20-basis point (0.2 percent) rise in market interest rates would wipe out the annual income that an investor would receive from Australian and global fixed income benchmarks.
To put that in perspective, the decline in yields over the past year has been around 120 basis points (1.2 percent) for the Australian bond benchmark, so a reversal of just one fifth of that move would put investors who invest according to the benchmark, in the red.
To be clear, many investors don't invest by simply mimicking fixed income benchmarks. It does, though, emphasise the predominance of downside risks over upside risks in fixed income investing these days.
Accumulating reasonable returns by investing passively in fixed income benchmarks may have broadly worked over recent decades, as yields and interest rates fell, but current unusually low interest rates and yields make that a risky proposition going forward.
Active investing is the best way to manage these and other fixed income risks.
Passively investing in fixed income benchmarks would mean holding bonds weighted towards countries and companies issuing the most debt. Effectively, indiscriminately taking on increasing risk. That's probably not what most investors would want.
Active management allows fixed income investors and managers to, amongst other things, avoid parts of the market where the risk/reward trade-off doesn't make sense. This includes avoiding the most indebted countries and companies.
It also means managing duration by pulling back interest rate risks when they are judged to be too high, or when the risk of lopsided outcomes seems high. For example, taking on large risks for potentially small gains, when in the same situation, loss potential may be high.

Bringing it together with Index Plus strategies

We think portfolios intelligently combining multiple strands – passive and active investments, as well as alternative strategies not correlated with share markets, coupled with fit-for-purpose fees for each component – meet the diversification and fee-smart thresholds.
Our Index Plus series comprising the MLC Index Plus Conservative Growth Portfolio, MLC Index Plus Balanced Portfolio, and MLC Index Plus Growth Portfolio encapsulate this.
We think the risk-return combinations across the three Index Plus portfolios (Chart 2) in concert with competitive fees offer a more attractive option than index investing alone.
Chart 2: MLC Index Plus portfolios
Potential risk and return, and asset allocations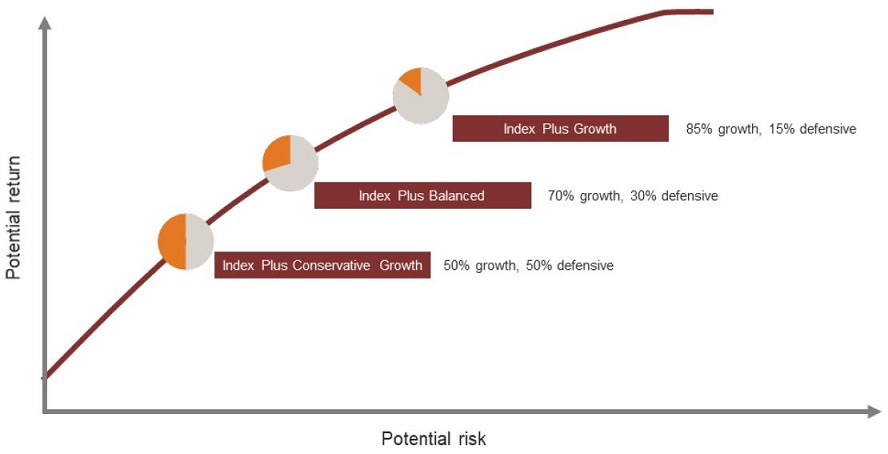 The above asset allocations are approximates. Current asset allocations are available at mlc.com.au/fundprofiletool. MLC Index Plus portfolios are available through MLC MasterKey Super Fundamentals.
Source: MLC Investments Limited
Moreover, active asset allocation features across all three portfolios.
A 'set and forget' approach to asset allocation smacks of excessive, unconscious risk, especially in fixed income markets, where loss potential is higher now than it has been for decades.
In line with all MLC multi-asset funds, the Index Plus portfolios utilise our proprietary Investment Futures Framework to help determine the appropriate asset allocation. Rather than assuming the future as a straight-line extrapolation of the past, we prefer to focus on understanding the different futures that could happen.
Imagining the future as multiple possible scenarios guides our thinking and the Index Plus portfolios' positioning.
This means that even in our lower-cost portfolios, both risk and return are considered (Chart 3).
Chart 3: MLC Index Plus portfolios
5-years to 30 September 2019 net of fee returns, * and risk (as measured by standard deviation of annual returns)*

*Past performance is not a reliable indicator of future performance. Returns and risk in this chart relate to MLC Masterkey Super Fundamentals Index Plus as at 30 September 2019.
Source: MLC Investments Limited

Markets are currently confident that central bankers can and will come to the rescue when things go wrong.
The 'Powell put' — thinking that the US Federal Reserve led by Chairman Jerome Powell will come to the market's rescue with interest rate cuts and other supportive policies — seems to have succeeded the 'Greenspan put.' That kind of thinking is creating investor complacency.
In the current environment, assets are expensive. Consequently, risk control is critical and as ever, efficient portfolio construction becomes even more important as the mainstay of investment returns.
Diversification, active asset allocation and being fee-smart are never out of fashion.
1 The 29 percent figure is as of 31 August 2019 and is based on MLC Investments Limited's analysis of Bloomberg Barclays Global Aggregate index data sourced from Barra.
Important information
This information has been prepared by MLC Investments Limited (ABN 30 002 641 661, AFSL 230705), a member of the National Australia Bank Limited (ABN 12 004 044 937) group of companies. NAB does not guarantee or otherwise accept any liability in respect of any financial product referred to in this publication.
This information may constitute general advice. It has been prepared without taking account of an investor's objectives, financial situation or needs and because of that an investor should, before acting on the advice, consider the appropriateness of the advice having regard to their personal objectives, financial situation and needs. Before making any decision about whether to invest in any product, you should obtain the Product Disclosure Statement (PDS) relating to the product and consider it. PDSs are available on our website at mlc.com.au or on request by phoning 133 652.
Any opinions expressed in this communication constitute our judgement at the time of issue and are subject to change. We believe that the information contained in this communication is correct and that any estimates, opinions, conclusions or recommendations are reasonably held or made as at the time of compilation. However, no warranty is made as to their accuracy or reliability (which may change without notice) or other information contained in this communication. In some cases the information has been provided to us by third parties. While it is believed the information is accurate and reliable, the accuracy of that information is not guaranteed in any way.
Past performance is not a reliable indicator of future performance. The value of an investment may rise or fall with the changes in the market. Any projection or other forward looking statement in this document is provided for information purposes only, and no representation is made that they will be met. Actual events may vary materially.