Running a small cap fund in the age of COVID-19
October 2020

This article is based on the contents of a financial adviser webinar of 8 October 2020 featuring Tim Hall, Portfolio Manager Fairview Equity Partners (Fairview). The Fairview Equity Partners Emerging Companies Fund, which invests in an actively managed portfolio of mainly small cap equities listed, or expected to be listed, on the Australian share market, is the sole managed investment offered by Fairview.
Fairview was announced as the 2020 winner of Money Management's Fund Manager of the Year (FMOTY) award in the Australian Small/Mid Cap Equities category. This recognition follows a track record of return outperformance over both the short-term as well as the long-term, dating all the way back to inception in 2008.

Net performance Fairview Equity Partners Emerging Companies Fund*
| | | | | | | |
| --- | --- | --- | --- | --- | --- | --- |
| As at 30 September 2020 | 3 mths % | 1 yr % | 3 yrs % pa | 5 yrs % pa | 10 yrs % pa | Since inception % pa |
| Fairview Equity Partners Emerging Companies Fund | 9.80 | 3.15 | 15.62 | 11.86 | 9.28 | 12.02 |
| Benchmark (S&P/ASX Small Ordinaries Accumulation Index) | 5.67 | -3.33 | 6.53 | 9.97 | 3.53 | 5.05 |
| Excess return* | 4.13 | 6.48 | 9.09 | 1.89 | 5.75 | 6.97 |
*Fund inception date 8 October 2008.
Net returns are calculated net of management and performance fees and are pre-tax. Returns over 12 months are annualised. Source: Fairview Equity Partners, MLC Asset Management Services Limited and FactSet, 30 September 2020. Past performance is not a reliable indicator of future performance.
References to Money Management's Fund Manager of the Year awards: © 2020 FE Money Management. all rights reserved. The information, data, analyses, and opinions contained herein (1) include the proprietary information of FE Money Management (2) may not be copied or redistributed (3) do not constitute investment advice offered by FE Money Management (4) are provided solely for informational purposes and therefore are not an offer to buy or sell a security (5) are not warranted to be correct, complete, or accurate. FE Money Management shall not be responsible for any trading decisions, damages, or other losses resulting from, or related to, this information, data, analyses, or opinions or their use. FE Money Management does not guarantee that a fund will perform in line with its Fund Manager of the Year award as it reflects past performance only. Likewise, the Fund Manager of the Year award should not be any sort of guarantee or assessment of the creditworthiness of a fund or of its underlying securities and should not be used as the sole basis for making any investment decision.

Bottom-up stock picking and strong interactions with companies defines Fairview
Fairview has been managing its Emerging Companies Fund (the Fund) for 12 years. There is only one fund as focus is a key advantage in small caps. The portfolio comprises, on average, 55 to 60 stocks. The maximum largest active position is 5% with the top 10 holdings generally accounting for about a third of the Fund.
Fairview is style agnostic on the value versus growth dimension, and regard their fund as a core small cap fund. The Fund's current median market capitalisation is a little above A$1 billion and about 85% of its stocks reside in the S&P/ASX Small Ordinaries Index, which measures companies included in the S&P/ASX 300, but not in the S&P/ASX 100.
Fairview are bottom-up stock pickers looking the exploit the information gap that exists in the small cap sector owing to there being from considerable less sell-side/broker research coverage compared to the large cap arena.
High levels of company contact are the foundation of Fairview's investment process, however, lessened face-to-face interaction with company management teams is one consequence of the COVID-19 environment, especially as Fairview's portfolio managers are all Melbourne-based.
Fairview's portfolio managers are all Fund unitholders and thus there is strong alignment with investors.

Capital protection contributes to outperformance
A source of pride for Fairview has been the team's ability to protect clients' wealth. Outperformance is often associated with positing large positive returns, however, protecting clients' wealth is no less important to contributing to outperformance.
With that in mind, the Fund has outperformed in 10 of the last 11 downmarket months for the small cap sector (see chart below). In other words, capital protection in difficult market environments is an unsung hero and the Fund has historically done a good job on this front.

Fairview monthly outperformance in down market months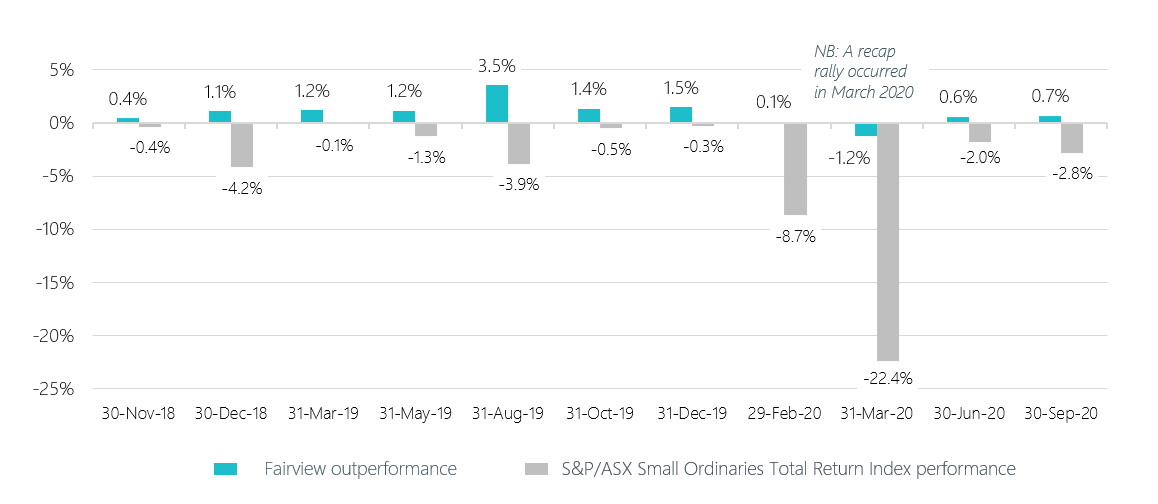 Past performance is not a reliable indicator of future performance. Performance returns are calculated net of management and performance fees and are pre tax. Source: IRESS, Fairview Equity Partners.

Important to be a nimble investor in current environment
While Fairview are bottom-up stock pickers, the uniqueness of the past nine-month COVID-19 influenced environment did require a more top-down perspective.
In the March quarter 2020, as COVID-19 struck share markets, Fairview's over-riding investment worry was the prospect of massive revenue hits to myriad small cap companies. There was also fear of financial liquidity shutting down.
Fairview responded by swinging the portfolio defensively, by amongst other actions adding to their holding in gold miners and cutting exposure to retail-driven stocks.
By the June quarter, the liquidity environment changed dramatically thanks to central bank interventions and eradicated any concerns of a liquidity squeeze. Consequently, the portfolio was repositioned, not massively, but by measured rebalancing. The Fund increased its retail goods and technology exposure while reducing its gold-related holdings.
More recently, a number of Australian states (and countries) have been demonstrating better management of COVID-19 and this is raising hopes of a rebound in calendar year '21, and contributed to making the outlook for cyclical stocks relatively more attractive.
Consequently, the Fund rotated some capital away from technology and retail stocks and increased exposure to businesses likely to benefit from potentially greater travel.

Some perspectives on small cap performance
Though the Fund has outperformed over this year and delivered strong positive returns, the fact is that the S&P/ASX Small Ordinaries Index (as at the end of September 2020) remains about 6% lower than its 21 February 2020 high, and about two thirds of small companies have lower share prices than the start of the calendar year. By comparison, the technology focused NASDAQ index is up roughly 25%.
The recently concluded reporting season revealed the highest percent of earnings upgrades in four years, albeit against low expectations. Pleasingly for Fairview and its clients, the Fairview Emerging Companies Fund benefitted by having a disproportionate number of stocks that outperformed reporting season expectations.
Over the reporting season, the Fund had about 12 companies that delivered share price returns of more than 20%. Despite the Fund's stocks generally faring well, of course, not every holding performed well.
For instance, Appen, which improves data used for the development of machine learning and artificial intelligence products, and Bravura Solutions, which provides software solutions for the wealth management, life insurance, and funds administration industries, disappointed.
Expectations were very high for Appen, going into reporting season, but heavy operational expenditure investment in sales and marketing, tripped up the first half result. They have provided four-year guidance and while management haven't stepped away from that guidance, it does require a material step up in margins to achieve guidance.
Appen had once been one of the Fund's top five holdings, but exposure had been significantly reduced over time, in part because Appen was added to the S&P/ASX 100 Index, at the end of September.
Bravura's full year result was in line with expectations but their guidance for a flat outlook surprised Fairview, as well as the market. The company has been a tremendous performer for the Fund since IPO, but now only has a minimal active position in the Fund.
By contrast, Beacon Lighting and Vocus Communications were among the Fund's best performers.
Beacon enjoys a 20% share of the lighting retail market, and has been a COVID beneficiary, with people nesting and improving their homes. The company has also decided to target trade customers in a more focused way and Fairview estimates that this roughly doubles Beacon's total addressable market to $2 billion versus the $250 million sales currently.
Vocus is a specialist fibre and network solutions provider that operates well-known brand such as Dodo and iPrimus. The company has amalgamated a lot of listed telecommunications assets in its history.
Fairview's Vocus investment thesis strengthened during reporting seasons for two reasons.
Firstly, there is the potential for asset rationalisation, particularly the possibility for divestment of their New Zealand assets, between now and the end of the year. Secondly, there is a possibility that Vocus will dial down or perhaps even exit their retail businesses.

Importance of risk management
Risk management is important at any time and especially so in the current environment. One of the ways that Fairview has been managing risk has been to heavily underweight the property and infrastructure arenas both in the lead up to the COVID-19 outbreak and subsequently.
The Fund has no exposure to the retail mall sector, and only minimal exposure to the risk of rental compressions.
Healthcare has traditionally been a sector in which the Fund has held an overweight position, but Fairview are just not finding the attractive risk reward profile they have been accustomed to.

Possible US election impacts on the Fund
At this stage, it looks like the US election will provide a clear rather than ambiguous result. This is important as markets value clarity and certainty.
In the event of a Democrat Party win certain sectors, such as auto, green buildings, as well as energy, wind, solar and other sustainable forms of energy will likely be winners.
Fairview are considering which small cap stocks could benefit. At this juncture, it appears that winners may be those in the material supply chains. Fairview is also thinking about regulatory changes that may follow should the Democrats win. This should benefit litigation funding business, Omni Bridgeway, as various trial lawyers lobby groups are amongst of the biggest donors to the Democrats.
Fairview are also mindful of a hit to valuations that might occur if inflation rises. In the US the valuations of the technology giants and technology business in general have been boosted by the low inflation/low interest rate environment. Those valuations could come under pressure if inflation rises as that would result in higher risk-free hurdle rates.

To sum up
the Fund is striving to achieve a good balance between companies that can benefit from government-driven consumption support, along with those that will benefit from wider national and global economic recovery as health authorities progressively get on top of COVID-19.
Important information and disclaimer
This information has been prepared for the general information and it is not intended to constitute a recommendation or advice. It provides an overview only and should not be considered a comprehensive statement on any matter or relied upon as such. It has been prepared without taking into account any investor's objectives financial situation or needs. Investors should consider its appropriateness having regard to these factors before acting on the information. Any reference in this publication to a specific company is for illustrative purposes only and should not be taken as a recommendation to buy, sell or hold securities or any other investment in that company. Securities mentioned in this presentation may no longer be in the Fairview Equity Partners Emerging Companies Fund (the 'Fund') after the time of preparation. You should obtain a Product Disclosure Statement (PDS) relating to the Fund issued by Antares Capital Partners Ltd ABN 85 066 081 114, AFSL 234483 ('ACP') and consider it before making any decision about whether to acquire or continue to hold the product. A copy of the PDS is available upon request by phoning Client Services 1300 738 355 or on our website at mlcam.com.au
This information is provided by Tim Hall, an authorised representative of MLC Asset Management Pty Limited ABN 44 106 427 472, AFSL 308953 ('MLCAM'). MLCAM is the distributor for units in the Fund. Tim is not the holder of an AFS licence, or an employee or MLCAM, or in partnership of joint venture with MLCAM. MLCAM and ACP are members of the group of companies comprised National Australia Bank Limited (ABN 12 004 044 937, AFSL 230686), its related companies, associated entities and any officer, employee, agent, adviser or contractor ('NAB Group'). Any references to "we" include members of the NAB Group. An investment with ACP does not represent a deposit or liability of, and is not guaranteed by the NAB Group. ACP, MLCAM or any member of the NAB Group, or their employees or directors do not give any warranty of accuracy, nor accept any responsibility for errors or omissions in this presentation. In some cases the information has been provided to us by third parties. While it is believed the information is accurate and reliable, the accuracy of that information is not guaranteed in any way. Opinions constitute our judgement at the time of issue and are subject to change.
Past performance is not a reliable indicator of future performance. Returns are not guaranteed and actual returns may vary from any target returns described in this presentation. The value of an investment may rise or fall with the changes in the market. Any projection or other forward looking statement ('Projection') in this document is provided for information purposes only. Any projections mentioned in this presentation are predictive in character. The projections may be affected by inaccurate assumptions or may not take into account known or unknown risks and uncertainties. The actual results achieved may differ materially from these projections.