Recent sharp falls across share and bond markets have been a shock, but not a surprise.
Sharp investment market falls are always jolting. However, they have not been a surprise given economic conditions, especially inflation being at multi-decades highs around the world.
Moreover, markets have been jittery since the back end of 2021 as investors began to digest the prospect of central banks raising interest rates to combat rising inflation. In that sense, current events are an outpouring of that build-up of worry.
Here are some figures to ponder: US inflation, as measured by the Consumer Price Index, was 8.6% in May,1 and hit 8.1% in the European Union in the same month.2
While Australia's March quarter annual 5.1% inflation rate was comparatively less severe, the Reserve Bank of Australia has said that inflation was likely to reach 7% by the end of this year.3
As to the causes of the inflationary upsurge – they are varied and include:
The shock to energy prices stemming from the Russia-Ukraine war that has dented Russian oil and gas availability


Spiralling global food prices that are also a knock-on effect of the Russia-Ukraine conflict as both countries are major sources of wheat, fertilisers, and seed oils


Shortages of essential technological inputs such as semi-conductors, which are found in everything from cars to phones, and


China's continuing insistence on its zero-COVID policy, which has meant abrupt shutdowns of large parts of an economy integral to the functioning of global supply chains.

Investors recognise that central banks, led by the US Federal Reserve (the Fed), will have to keep hiking official interest rates until they eventually slow economic activity and reduce inflation.
At the time of writing, the Fed had just announced a 0.75% rise in official American interest rates, the highest single rise since 1994. In its commentary, the Fed made clear that more large rate increases were to come.4
The investment community acknowledges the necessity for higher interest rates to confront inflation, but also fears that interest rate hikes will end up crunching economies.

Investment market impacts

The issue with rising inflation is that the higher borrowing interest costs that follow reduces the future value of companies' cash flows measured in present day terms. So, as interest rates rise, the value assigned to companies' earnings decline.
While company profits have grown over the past decade, the value assigned to those profits have grown even more, thanks to very low interest rates. Essentially share prices have risen faster than profits.
So, the current transition from ultra-low to higher but more 'normal' interest rates has seen share values take a hit. At this moment, US earnings expectations are still solid, but that isn't offering much defence as investors lower their valuations for shares.
The inverse relationship between interest rates and US S&P 500 Index share market valuations is conveyed in Chart 1, below, but the analysis applies to share markets generally. Higher interest rates are a drag on share market valuations.
Chart 1: Analysis reveals an inverse relationship between interest rates and stock valuations
S&P 500 average price/earnings ratios5 by interest rate levels
The vertical axis in the chart represents P/E ratios, while the horizontal axis shows interest rates
Source: John Lynch, Comerica Wealth Management

What lies ahead?

Trying to predict market turning points is a fool's errand. Nevertheless, we can gain some knowledge from the past.
Markets tend to bottom and then begin to recover after dramatic market events – such as the October 1987 crash, the 1994 bond market sell-off, the bursting of the tech bubble in 2000, the 2008/09 GFC, and the March 2020 COVID-crash – when central bank (and government) policies become more sympathetic.
This time around, central banks are constrained by high inflation so even if economies and share markets struggle, central banks appear likely to maintain higher interest rates for longer to keep inflationary pressures in check.
Our investment team prepared for the inflationary upswing and that's reflected in how we are managing and positioning portfolios, as discussed below.

MLC diversified retail portfolios

The Investment Futures Framework (Chart 2) underpins the management of MLC Asset Management's diversified retail funds.6 Rather than trying to guess the future, the Investment Futures Framework means we are constantly considering 40 possible scenarios and a range of outcomes, including return outcomes across asset classes.
Moreover, an explicit stagflation scenario (scenario 3), and three inflation-related scenarios (scenarios 4, 7, and 22) mean the possibility of inflation is ever-present in our thinking and analysis.
Chart 2: Explicitly stagflation and inflationary scenarios (3, 4, 7, and 22) captured in the Investment Futures Framework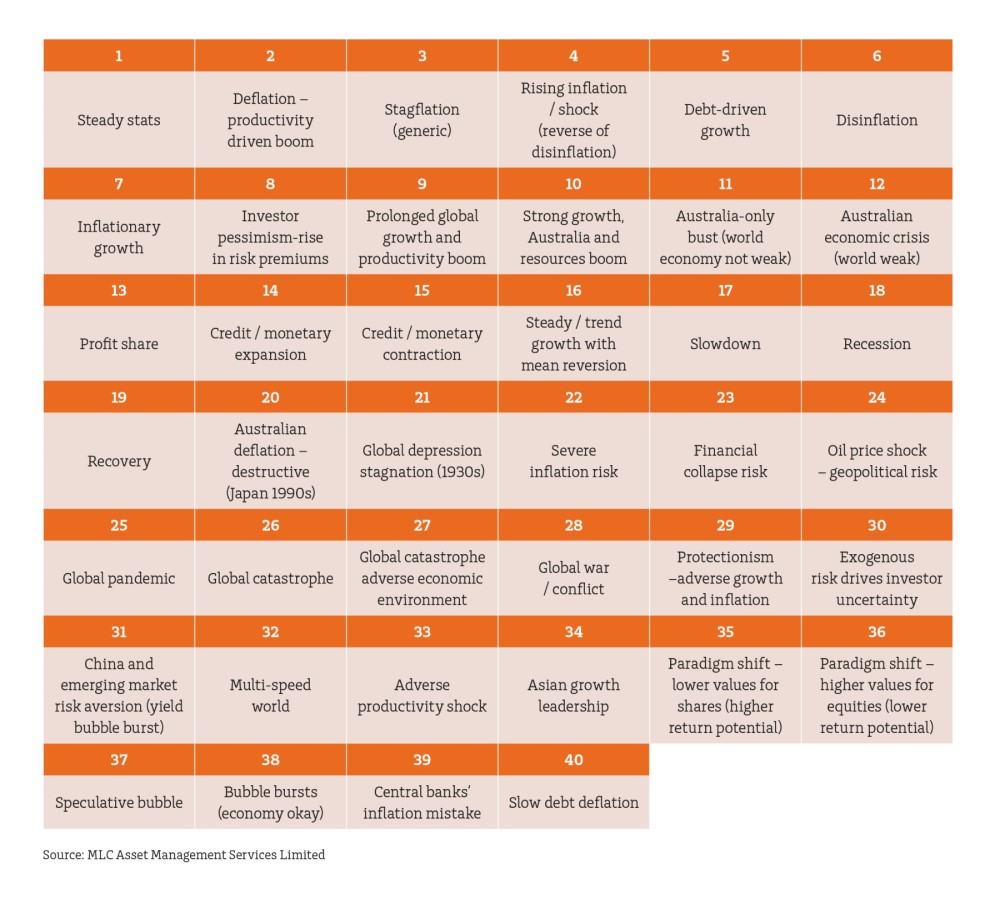 We had been factoring in the possibility of higher inflation before the run-up rise in prices across economies last year because scenario 25 ("Global pandemic" in chart 2) made us think about the intersection of disrupted supply and rising pent-up demand creating the conditions for higher inflation.
In fact, we have been building inflation resilience across our multi-asset portfolios for a number of years, trying to create a balance in our growth and defensive assets that will perform irrespective of whether growth is price or demand-driven. With that in mind we have:
Minimised exposure to nominal cash flows – across the MLC Horizon, Index Plus and Inflation Plus portfolios, we have minimal risk exposure to traditional bonds, preferring to use inflation-linked bonds to replace government bonds and corporate bonds with relatively short maturity dates. This positioning was beneficial for the portfolios during the recent spike in global bond yields (global bond values fell).


Used gold as a hedge if growth is inflationary – we have held gold in the Inflation Plus portfolios as a defensive allocation if inflation proves persistent and dampens economic growth. The recent concerns around stagflation have seen gold perform well.


Increased exposure to real cash flows – last year's addition of global listed infrastructure in the Horizon and Inflation Plus portfolios provided a valuable inflation linked revenue stream. This allocation has been resilient during recent unsettled financial markets, outperforming broader global shares by over 14% for the calendar year to date.7


Identified companies with pricing power – the creation of the 'miners and energy basket' for Inflation Plus was designed to identify companies with high quality, reliable cash flows that would be resilient in an inflationary environment. Performance of the basket has been strong, particularly during recent energy supply disruptions.


Added sources of uncorrelated income – insurance-related investments provide a return stream that is uncorrelated to inflation and were added to the Horizon and Inflation Plus portfolios to serve as a defensive source of meaningful income.


Accessed share markets through 'participate and protect' option strategies – we are strong advocates for the use of options to access share markets as they enable our portfolios to participate in rising market, but thanks to options strategies, also receive payments when markets decline. Options strategies have been central to our US and Chinese share markets investments.

It's a fair assumption that not too many investment professionals who cut their teeth during the terrible inflation of the 1970s are still in the industry today. The upshot is that for the first time in a while, investment industry participants need to consider the impact prolonged inflation could have on portfolios.
By leaning on our Investment Futures Framework, inflation is ever-present in our thinking and that's evident in the positioning of our diversified retail portfolios.
1 Current US Inflation Rates: 2000-2022, https://www.usinflationcalculator.com/inflation/current-inflation-rates/
2 Euro zone inflation hits yet another record high as food and energy prices soar, by Elliott Smith, Katrina Bishop, May 31, 2022, https://www.cnbc.com/2022/05/31/euro-zone-inflation-hits-yet-another-record-high-as-food-and-energy-prices-soar.html
3 Reserve Bank of Australia governor expects inflation to hit 7% by end of year, 14 June 2022, https://www.theguardian.com/business/2022/jun/14/a-very-high-number-reserve-bank-of-australia-governor-expects-inflation-to-hit-7-by-end-of-year
4 Federal Reserve issues FOMC statement, Press release June 15, 2022, https://www.federalreserve.gov/newsevents/pressreleases/monetary20220615a.htm
5 The Price Earnings Ratio (P/E Ratio) is the relationship between a company's share price and earnings per share (EPS). It is a popular ratio that gives investors a better sense of the value of a company.
6 Diversified retail funds are The MLC Wholesale Inflation Plus, MLC Wholesale Horizon and MLC Wholesale Index Plus funds. The Product Disclosure Statement (PDS) for each of the MLC Wholesale Funds is available via https://www.mlcam.com.au/institutional-clients/mlc-wholesale/resources.
7 This refers to the outperformance of FTSE 50/50 Developed Core Infra Index versus MSCI World (both in USD)
Important information
This information, which is current as at June 2022, is provided by MLC Investments Limited, ABN 30 002 641 661 AFSL 230705 ("we"), as responsible entity of a series of managed investment schemes collectively known as the "MLC Investment Trusts."
We are part of the group of companies comprising Insignia Financial Ltd (ABN 49 100 103 722) and its related bodies corporate (Insignia Financial Group). While care has been taken in the preparation of this communication, no member of the Insignia Financial Group accepts responsibility for any loss or liability incurred by you in respect of any error, omission or misrepresentation in the information in this communication.
The information contained in this communication may constitute general advice and does not take into account your objectives, financial situation or needs. Because of that, before acting on this information, you should consider its appropriateness, having regard to your objectives, financial situation and needs. You should obtain the relevant Product Disclosure Statement or other disclosure document relating to any financial product which is mentioned in this communication, and consider it before making any decision about whether to acquire or continue to hold the product. Target Market Determinations (TMDs) for relevant products are also required to be made available and considered by distributors. We recommend you obtain financial advice tailored to your own personal circumstances. A copy of the Product Disclosure Statement or other disclosure document and TMD is available upon request by phoning 13 26 52 or on our website at mlc.com.au, plum.com.au or mlcam.com.au.
Past performance is not a reliable indicator of future performance. The value of an investment may rise or fall with the changes in the market.
Opinions constitute our judgement at the time of issue and are subject to change. No member of the Insignia Financial Group gives any warranty of accuracy, nor accepts any responsibility for any loss or liability incurred by you in respect of any error, omission or misrepresentation in this communication. Any projection or other forward looking statement ('Projection') in this communication is provided for information purposes only. No representation is made as to the accuracy of any such Projection or that it will be met. Actual events may vary materially. This information is current as at June 2022 and may be subject to change. Subject to any terms implied by law and which cannot be excluded, we shall not be liable for any errors, omissions, defects or misrepresentations in this communication or for any loss or damage suffered by persons who use or rely on the communication.
In some cases the information in this communication has been provided to us by third parties. While it is believed the information is accurate and reliable, the accuracy of that information is not guaranteed in any way.
This communication is directed to and prepared for Australian residents only.