Al Clark, Head of Investments
Against a background of Ukrainians' suffering, writing about how we're managing the multi-asset portfolios – MLC Horizon, Index Plus and Inflation Plus portfolios1 – might seem like a case of trivialising what's going on.
However, many advisers and their clients, rightly and understandably, have asked us to fill them in on how we're managing portfolios in the new, and riskier geo-political environment with its many economic and investment implications.
This commentary – covering Europe's high Russian energy-dependence; the inflationary effects of the war; and how we're positioning portfolios – is provided in that context.
From the get-go, we can confirm that our multi-asset portfolios have zero Russian exposure in any of our asset classes.

A shock, but not a surprise

Like many others, we were shocked but not surprised by the awful turn of events. There are two reasons for this.
Shock, because the whole European project of economic integration within an expanding European Union (EU), along with ever-closer trade ties between EU members and Russia was supposed to make major military conflicts a thing of the past.
As for the lack of surprise; Russia had been building up massive combat forces for months on its neighbour's borders, and Vladimir Putin's language about Ukraine had become increasingly hostile. Tragically, what's happened is the culmination of those threats.
The other reason why we were not totally surprised is because of our Investment Futures Framework, which Jonathan Armitage touched on in his CIO Note to advisers and investors: "Global war/conflict" is scenario 28 (Chart 1).
At any time, we have return assumptions across all 40 scenarios.
Chart 1: "Global conflict" (scenario 28) is captured in the Investment Futures Framework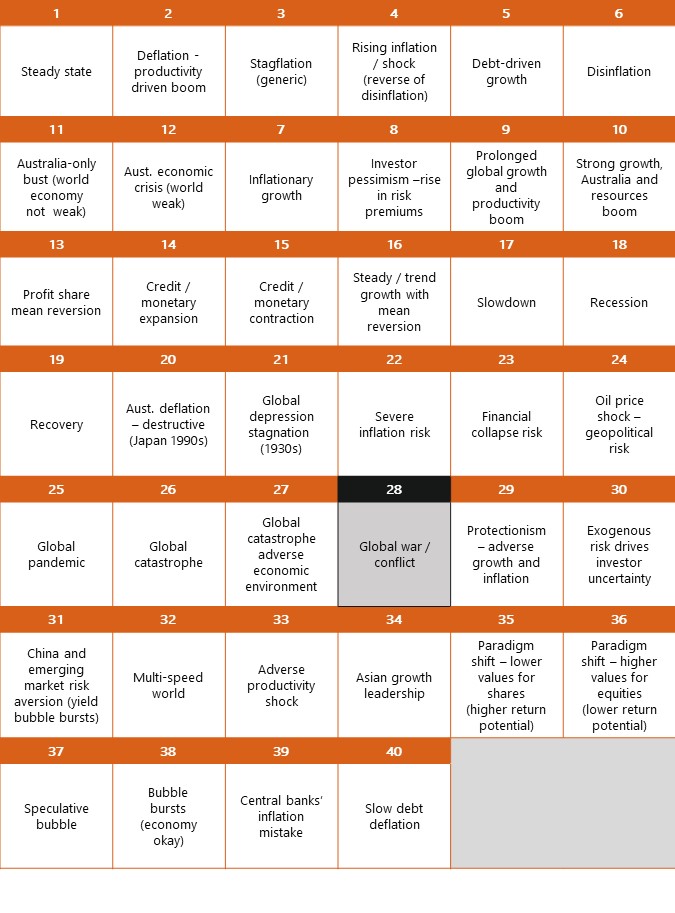 Source: MLC Asset Management Services Limited
As you can imagine, this means we are constantly analysing a far wider range of possible outcomes for all asset class, and our portfolios than would be the case if we simply came up with the traditional three scenarios most investment managers run with: a base case, and then one upside scenario, and one downside scenario.
In other words, while a terrible scenario like a major war can shock us, it's already factored into our thinking and return calculations, ahead of events. We believe this helps us to respond more effectively because we are always mindful of the many things than can happen instead of simply trying to correctly guess the single thing that might happen.

Europe's Russian energy dependency

The Russia-Ukraine war may have far-reaching economic repercussions owing to Europe's high Russian energy dependency (Chart 2). Russia is the source of around 25% of the EU's oil supply and 46% of gas imports.
Chart 2: Europe relies materially on Russian oil and gas supply
Final energy consumption by fuel, EU, 1990-2019
(million tonnes of oil equivalent)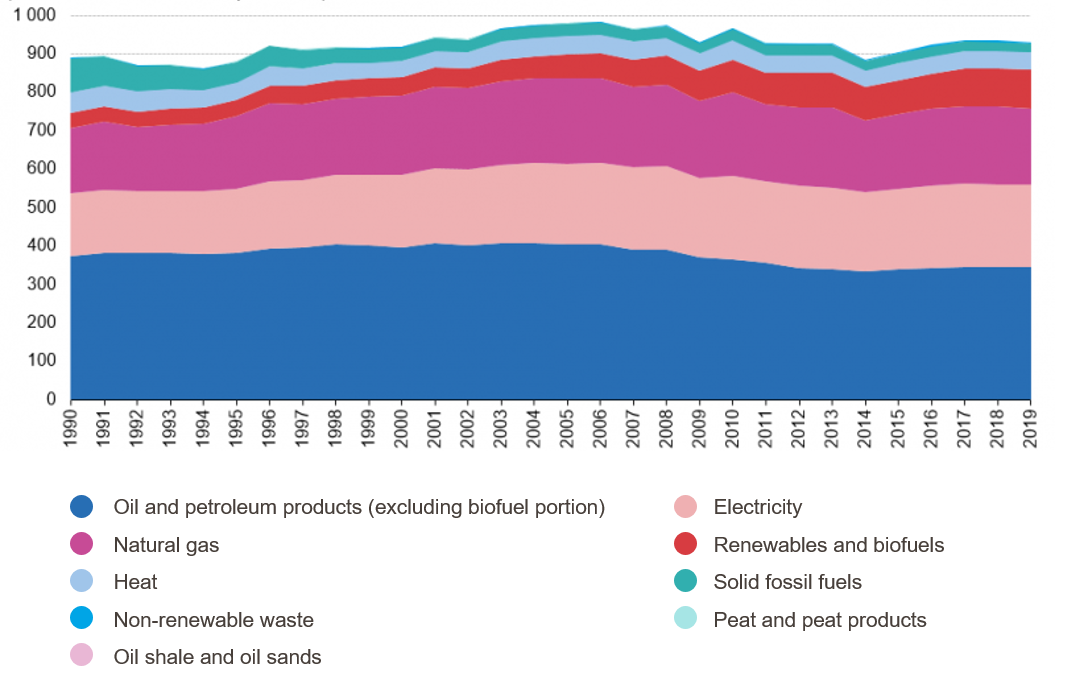 Source: Eurostat (online data code: nrg_bal_c).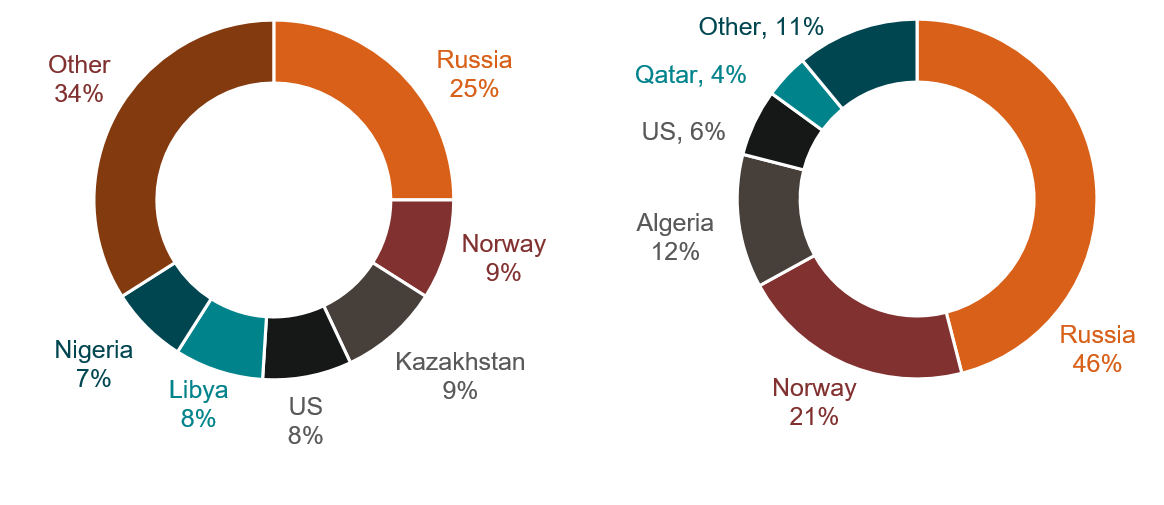 Source: Eurostat (data for H1 2021).

Disruptions to supply would create two sources of worry.
Firstly, it would add to already strong inflationary trends. Given European inflation, as measured by the headline consumer price index, was running at 5.8% in February2, well above the European Central Bank's 2% target rate, higher energy costs risk locking in high inflation.
Earlier talk of high inflation just being transitory seems to be fading everywhere.
Secondly, there are the political and human aspects. Europeans experienced both disrupted gas supply as well as price shocks last winter. The situation could conceivably be worse by next winter, and governments could come under fire if communities become distressed.
Governments are talking about speeding up solutions, including making policy U-turns. Germany is now thinking of extending the life of its electricity-generating nuclear plants, which were planned for gradual wind-downs because of the 2011 Fukushima nuclear disaster.
The German government is also thinking of pausing or even reversing, at least for a while, the country's exit from coal-fired electricity generation.
In the context of European governments and communities' commitment to a clean energy future, these potential about-turns reflect an understandable pivot towards strategic energy security when their key supplier has become such a threat.
To be clear, Europe has the infrastructure to receive more shipped non-Russian oil, if alternative supplies can be found. Rumours of President Biden heading off to Saudi Arabia, if true, would probably have at its core convincing the Saudis to increase oil supply to dampen currently high prices3, as well as hitting Russian revenues.
Recent US outreach to Venezuela, another country under American sanctions, is also driven by a demand for more non-Russian oil.4
However, gas is another story. So much of Europe's gas infrastructure has been built to receive piped Russian gas. Additionally, the global gas market is already tight.
"Qatar, one of the world's top LNG producers, has said no single country can replace Russian supplies to Europe, with most volumes tied to long-term supply contracts. Europe's LNG terminals also have limited capacity for extra imports, although some European countries say they are looking at ways to expand imports and storage."5
The continent's governments have little time to address big issues even as they step-up military spending in a radically changed security environment.
Many strategic analysts are now saying we are in Cold War II. It's hard to disagree.
Governments' spending priorities will change, and communities in Europe, and elsewhere, are likely to preference supply-security for a range of products, rather than necessarily wanting the lowest-cost. To achieve this, we can expect, over time, shortening of supply chains, and more 'on-shoring,' a reversal of 'off-shoring.'
It's logical from a strategic security perspective, but would mean higher costs, including labour costs, if more production is brought home.

Accessing better than inflation returns

Before the current crisis, we had been thinking about increasing our European equity exposure on valuation grounds, but we now think it's too risky to do so. 'Tail risks' risks are just too high, at this juncture.
We had also been factoring the possibility of higher inflation before the sharp rise in prices recorded across many economies last year, again, because of the Investment Futures Framework. Scenario 25 "Global pandemic" (Chart 1) made us think about the intersection of disrupted supply with rising pent-up demand creating the conditions for higher inflation.
With this in mind, we had been preparing our portfolios for a spike in inflation for most of the past year.
We have exposure to inflation-linked bonds, which were relatively cheap last year, as well as gold, and we have been increasing exposure to resources companies while they too were attractively valued, even as their cashflows and margins swelled on the back of rising commodity prices (Chart 3).
We call this our Miners and Energy Basket – it has broadened portfolio exposure to capture company earnings that increase with inflation.
While our portfolios have had exposure to emerging markets and infrastructure through global shares exposures in the past, we've added direct exposures to these sectors to broaden our portfolios' drivers of growth during inflationary environments.
Chart 3: Commodity prices have spiked
US consumer price index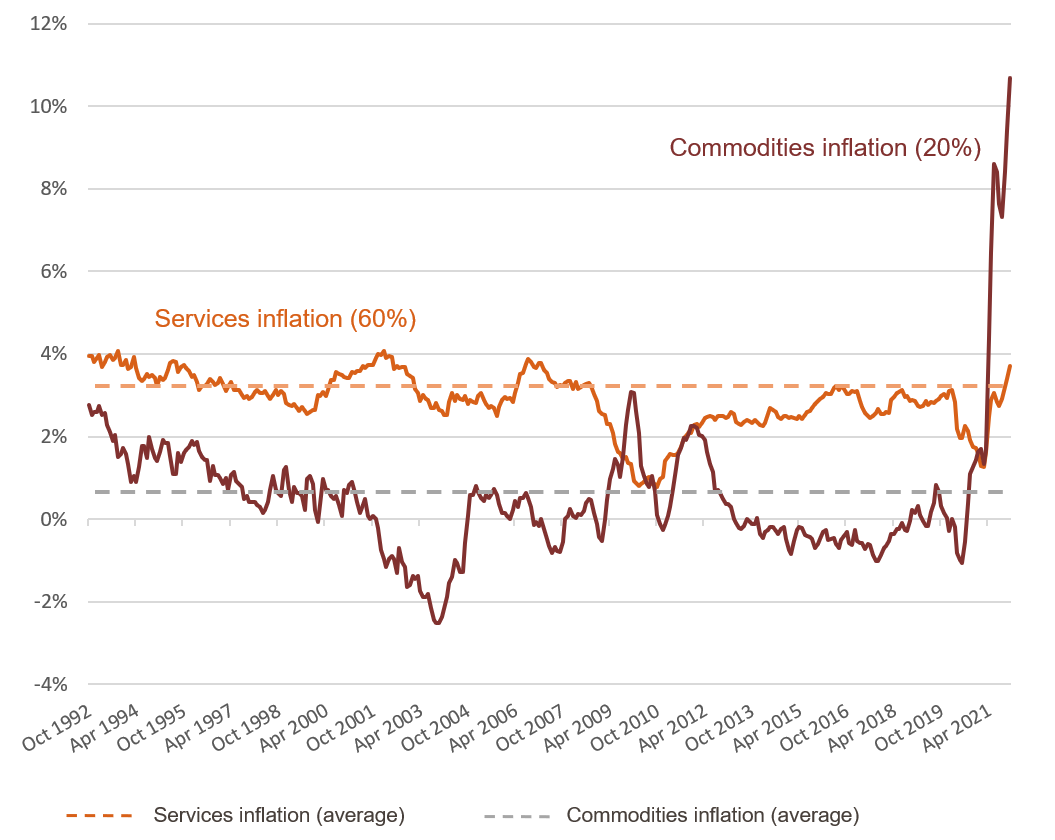 The "commodities inflation 20%" reference in the chart relates to the fact that 20% of the US consumer price index is made up of ex-food and energy, and the remaining 80% of US CPI is split between services 60%, and goods 20%.
Source: Bloomberg (1992 – 2022) and MLC Asset Management Services Limited.

We structured our Miners and Energy Basket as a 'participate and protect' options strategy. By leaning on options, we have been able to access dividends in the 8-10% range, alongside downside protection.
While inflation-linked bonds are an obvious inflation-hedge, we believe our options-based Miners and Energy Basket has been innovative as we have been able to capture the upside of resource companies' shares without being exposed to all the 'tail risks' that would be the case if we just owned physical shares.

Using options for US and Chinese equity exposure

Options have also been key to our US equity positioning. Investors have assigned high valuations to a host of American technology companies like Alphabet/Google, Apple, Tesla, Microsoft, Amazon, Meta/Facebook, and more.
The downside is that the rise in technology companies' valuations have caused overall US equity valuations to drift far away from other markets' valuations. The US S&P 500 Index's 12-months forward price-earnings ratio6 is around 21 times earnings, a level almost double the UK share market's 11 times forward earnings, and the Australian market's 17 times forward earnings.7
From our perspective, the valuation gap between US equities and other share markets is a proceed with caution signal.
Additionally, there is the risk of potentially higher interest rates pulling back high US valuations, especially technology companies' valuations as they have been outsized beneficiaries of the ultra-low interest rate environment.
Clearly, a margin of safety is necessary in any approach towards US shares.
Our solution, as with the Miners and Energy Basket, has been to construct options-based structures. The options structures are flexible, and cost-effective, and include a currency component with some of the return contingent on the Australian dollar versus the US dollar being above a specified threshold.
This sophisticated strategy has been positive for our portfolios delivering good upside with insurance. Accessing share market returns through options does mean missing out on 100% of the upside, but also means missing out on 100% of the downside. We are more than happy to capture a reasonable part of the upside, if it means we protect portfolios against the worst of the downside.
Option-structures have also been at the fore of the Chinese share exposure we've provided to the Horizon and Inflation Plus portfolios. Beijing's crackdown last year on the technology and education services sectors chilled foreign investors. Fortunately, we didn't suffer those technology-related losses.
In contrast to their tough stance towards the technology and education services sectors, the authorities have been supportive of small-to-medium sized enterprises seeing their success as an important component of the 'common prosperity' policy ambition.
Rather than owning physical Chinese shares, we used swaps to invest in the Chinese CSI300 index. It has been a positive contributor for the Horizon and Inflation Plus portfolios as the swap has returned around 14% over the past year. Of course, this is one of many of our portfolios' investments, so the effect on the portfolio return is much less. But it all helps.

Non-traditional sources of inflation-protection

Ultra-low bond yields make traditional fixed income assets like government bonds unattractive propositions, vulnerable to capital losses while high inflation persists, and central banks contemplate interest rate rises. However, this doesn't mean that investors should abandon all forms of fixed income.
True diversification requires fixed income in the mix. It's just that you need to look in different places.
By looking in different places for fixed income assets that are genuinely unrelated to inflation, we have found insurance related investments (IRIs).
IRIs are investments in natural catastrophe risks. Investors take on the role of an insurer. They receive a yield – effectively an insurance premium – for taking the risk of a particular natural catastrophe causing losses above a certain level.
As the occurrence of natural catastrophes has no expected relationship with inflation (or with share market movements), IRIs are an attractive source of diversification.
Our three IRI strategies are expected to deliver a 5% coupon/income payment this year, an attractive figure when there's a dearth of good traditional income-generating assets.
As climate change related risks rise, so have IRI premiums. Still, because IRIs are non-traditional assets, many investors have been tiptoeing around them. That's good for us as it's meant that our portfolios are being well-rewarded for providing capital.
IRIs are just another example of our willingness to innovate if we can do so in a sensible, risk-controlled way for our clients and portfolios.

Inflation risk to asset classes

Inflation has been a dominant theme through this commentary, and we will end with another dive into it.
The risk of inflation to bond valuations is well understood. However, it's not just bond valuations that can be destabilised by inflation. Any asset without in-built inflation protection can be threatened by inflation, including shares (Chart 4).
Companies with pricing power can pass on high costs along the value chain and protect their margins and profitability in the process. However, those without pricing power have little choice but to absorb higher costs, which dents their profitability.
The thing is pricing power isn't always known in advance. It really is a case-by-case story.
Chart 4: Inflation can destabilise all asset classes, not just bonds
Relationship between US inflation vs S&P 500 Index price/earnings ratio (1970-2021)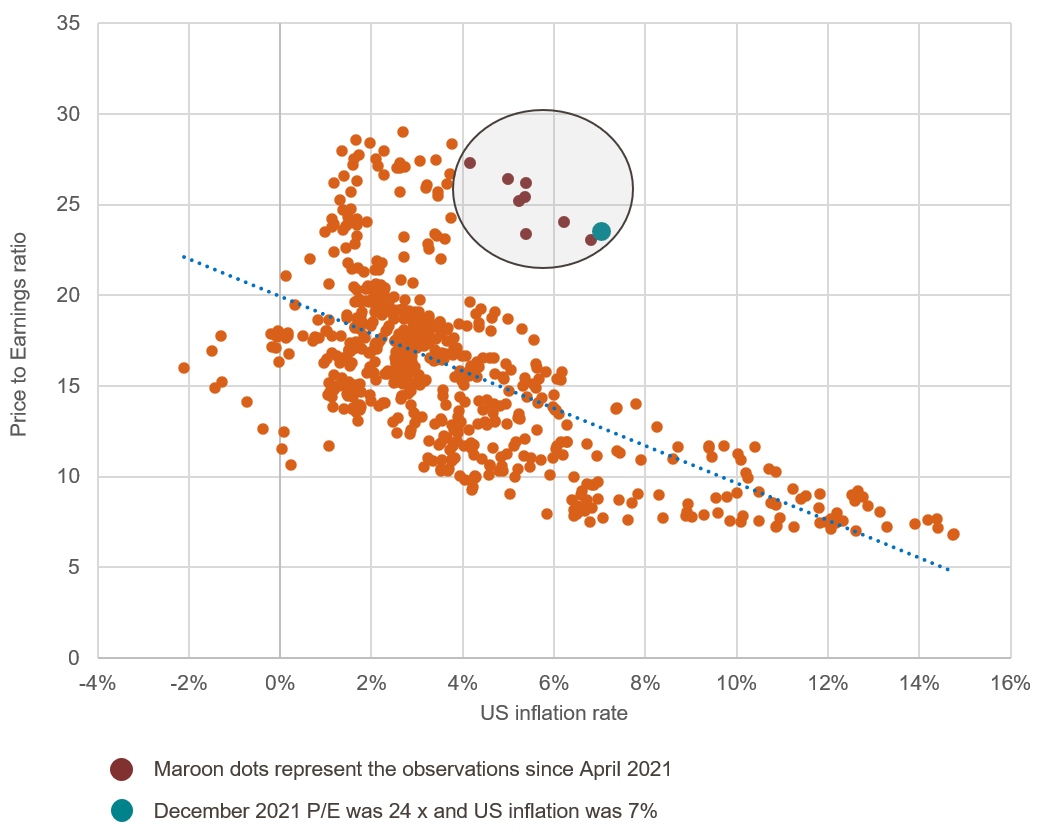 Source: FactSet (1970 – 2021) and MLC Asset Management Services Limited.

It's this uncertainty that has historically depressed share market valuations when inflation has been high.
Remember that a sizeable part of global share market gains, and especially US share market gains, in the post GFC era has been on the back of valuation expansion as investors have bid up prices. To be clear, earnings have grown too, but valuation expansion has been even greater.
So, if interest rates do go up because of high inflation, investors, going forward, will be less willing to pay the kind of high prices they have to own shares over the past decade.
Portfolios that remain engineered to prosper in the low inflation world since the 1990s stand the risk of struggling in the world that's now emerging.
Long-established assumptions about globalisation, governments emphasising human capital development rather than defence spending, to low inflation need questioning.
We have been rebalancing portfolios over the past year for a changing world, and the Investment Futures Framework has, yet again, been indispensable to the task.
---
Sources:
1The MLC Wholesale Inflation Plus, MLC Wholesale Horizon and MLC Wholesale Index Plus funds. The Product Disclosure Statement (PDS) for each of the MLC Wholesale Funds is available via https://www.mlcam.com.au/institutional-clients/mlc-wholesale/resources
2Euro area annual inflation up to 5.8% - European Union, Eurostat: Euroindicators, 2 March 2022, https://ec.europa.eu/eurostat/documents/2995521/14358044/2-02032022-AP-EN.pdf/617fee08-c46f-453a-a308-4fa3d33f4aae#:~:text=Euro%20area%20annual%20inflation%20is,office%20of%20the%20European%20Union.
3Scoop: Biden advisers weigh Saudi Arabia trip for more oil, Hans Nicholas, https://www.axios.com/biden-saudi-trip-oil-b7a91070-8045-4155-9120-a35d59fd7603.html

4U.S. reaches out to Venezuela amid possible Russia oil embargo, 8 March 2022, https://www.nbcnews.com/news/latino/us-reaches-venezuela-possible-russia-oil-embargo-rcna19033

5Factbox: what are Europe's options in case of Russian gas disruption? Nina Chestney, 1 March 2022, https://www.reuters.com/business/energy/what-are-europes-options-case-russian-gas-disruption-2022-02-28/
6Factbox: what are Europe's options in case of Russian gas disruption? Nina Chestney, 1 March 2022, https://www.reuters.com/business/energy/what-are-europes-options-case-russian-gas-disruption-2022-02-28/
7Price-earnings (P/E) ratios sourced from Bloomberg
Important information
This information is current as at March 2022 and is provided by MLC Investments Limited, ABN 30 002 641 661 AFSL 230705, as responsible entity of a series of managed investment schemes collectively known as the "MLC Investment Trusts" including but not limited to: MLC Wholesale Inflation Plus – Conservative Portfolio, MLC Wholesale Inflation Plus – Moderate Portfolio, MLC Wholesale Inflation Plus – Assertive Portfolio, MLC Wholesale Index Plus Conservative Growth Portfolio, MLC Wholesale Index Plus Balanced Portfolio, MLC Index Plus Growth Balanced Portfolio, MLC Wholesale Horizon 1 Bond Portfolio, MLC Wholesale Horizon 2 Income Portfolio, MLC Wholesale Horizon 3 Conservative Growth Portfolio, MLC Wholesale Horizon 4 Balanced Portfolio, MLC Wholesale Horizon 5 Growth Portfolio, MLC Wholesale Horizon 6 Share Portfolio, MLC Wholesale Horizon 7 Accelerated Growth Portfolio ("MLC" or "we").
We are part of the group of companies comprising Insignia Financial Ltd (ABN 49 100 103 722) and its related bodies corporate (Insignia Financial Group). While care has been taken in the preparation of this communication, no member of the Insignia Financial Group accepts responsibility for any loss or liability incurred by you in respect of any error, omission or misrepresentation in the information in this communication.

The information contained in this communication may constitute general advice and does not take into account your objectives, financial situation or needs. Because of that, before acting on this information, you should consider its appropriateness, having regard to your objectives, financial situation and needs. You should obtain the relevant Product Disclosure Statement or other disclosure document relating to any financial product which is mentioned in this communication issued by MLC, and consider it before making any decision about whether to acquire or continue to hold the product. Target Market Determinations (TMDs) for relevant products are also required to be made available and considered by distributors. We recommend you obtain financial advice tailored to your own personal circumstances. A copy of the Product Disclosure Statement and TMD is available upon request by phoning 13 26 52 or on our website at mlc.com.au or mlcam.com.au.
Past performance is not a reliable indicator of future performance. The value of an investment may rise or fall with the changes in the market.
Opinions constitute our judgement at the time of issue and are subject to change. No member of the Insignia Financial Group gives any warranty of accuracy, nor accepts any responsibility for any loss or liability incurred by you in respect of any error, omission or misrepresentation in this communication. Any projection or other forward looking statement ('Projection') in this communication is provided for information purposes only. No representation is made as to the accuracy of any such Projection or that it will be met. Actual events may vary materially. This information is current as at March 2022 and may be subject to change.
Subject to any terms implied by law and which cannot be excluded, we shall not be liable for any errors, omissions, defects or misrepresentations in this communication or for any loss or damage suffered by persons who use or rely on the communication.
In some cases the information in this communication has been provided to us by third parties. While it is believed the information is accurate and reliable, the accuracy of that information is not guaranteed in any way.
This communication is directed to and prepared for Australian residents only.